Seven years ago, Cadillac came out with what some consider to be one of the greatest concept cars ever created. I personally love everything about it, everything about the car is so… human, I guess. Instead, of being a calculated presentation of what will soon be possible; the concept takes a more artistic approach; intending evoke an interesting array of emotions. The Cadillac World Thorium Concept, was concocted to commiserate the company's Centennial. To celebrate one hundred years of Caddies on the streets of America, the US automaker designed a Caddy capable of roaming the road for the following hundred years. In case you have not already Googled it, Thorium is a radioactive metal, full of almost unbelievable potential. One gram has the potential energy equivalent of over 7000, gallons of gasoline. And, relative to oil, our supply of thorium is infinite. However, despite various 'news' sources saying otherwise it is aggressively radioactive.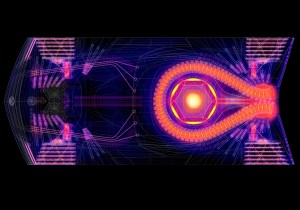 As the name suggests, the Cadillac WTF was designed to be powered by Thorium. 8 grams of the miraculous metal is (theoretically) capable of providing power to the 24 wheels propelling the car for a hundred years.  If that sounds redundant, that is because it is intentionally so. Each of the four corners of the car, consist of six internal induction engines powering every single wheel. If anything happens to any one of the components, the car can continue to function without it.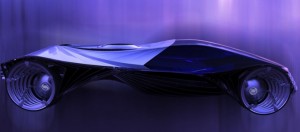 Supposedly, the car turns in a unique manner, basically it turns the way a snake would. Think of a typical car frame like a skeleton. Some of it is designed to provide stationery protection (Ribcage, and skull), while other areas are intended to pivot allowing for redirection (elbows and knees). In that analogy, the car frame is a giant skull with no structural give. It is not designed to bend at all; just to keep the spinning axle, and its elbow that pivots on a single plane of the axis; in place. The Cadillac WTF concept is designed more like a cartilage filled shark's spine.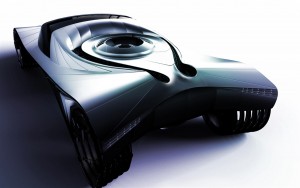 To turn, a system that mimics muscle fibers; expands and constricts according to necessity. That action tugs on more rigid but still malleable muscle similar to cartilage), which in turn, directs the wheels in the right direction. Like the radioactive material powering it, the lingering interest for the Cadillac WTF concept buzzed underfoot for years. Eventually, the radioactive material bestowed the concept immortality, in the form of a myth. About two years after its release at the Chicago Auto Show, Laser Power Systems (LPS) announced that they were making progress on producing a production prototype. Green Car Reports and/or Txchnologist, wrote an article that (by no fault of their own) undercut the challenges for feasibility remaining. Honestly, it has no chance of being practical any time soon. All potential, sans function. But that takes nothing of value away from Cadillac World Thorium Fuel concept, it still achieved its goal of garnering attention. And if you believed there was any purpose past turning heads, consider what World Thorium Fuel will unavoidably be acronymized to... the Cadillac WTF concept.