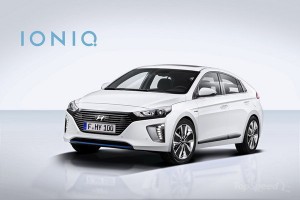 From the day of its inception, Hyundai has had more than its share of ambition. The carmaker reminded the auto world of this when it announced its plans to have 26 alternatively fueled cars and SUVs on showroom floors by the year 2020. Rumors reveal that of these alternatively powered vehicles, six of them will be electric while two models will operate by hydrogen fuel cells.
The intention to shift so aggressively to alternate power is a bold move since it comes on the heels of the company's plan to launch six new vehicles under the Genesis luxury brand. Few other auto manufacturers have attempted such a massive engineering project, and of the ones that have, none of them have dared to proclaim it to the public.
Later this year, Hyundai will be launching a new hybrid car that it's calling the Ioniq. The car company developed the model to challenge the Toyota Prius. In fact, with the Ioniq, Hyundai aims to knock Toyota off its perch of manufacturing the world's best hybrid. To construct the model, Hyundai is using new architecture that was specifically developed for electric vehicles and hybrids. Kia is using this same architecture to make its new hybrid SUV, which is also expected to hit showroom floors later this year. The Hyundai Group manages Kia, so the two brands share basic technology features and engineering techniques, but they have different interior and exterior designs.
In the U.S. auto market, Hyundai plans to sell conventional hybrid models and all-electric versions of the Ioniq. During the second quarter of 2017, the carmaker will introduce a plug-in hybrid. Hyundai hasn't released information about the car model's pricing, but its cost will likely compete with the Prius.
Hyundai entered the hybrid market later than many of the other car companies, but the technology that it's using to develop its hybrids is progressing more quickly. The automaker sold its first hybrid model in 2011, which was more than 10 years after other major car companies jumped into the eco-friendly vehicle arena. Hyundai's first hybrid was the Sonata midsize sedan. This model can travel 27 miles on just electricity, and it's been rated at 40 miles per gallon in EPA tests. The car model's figures outperform Ford's Fusion Energi.
With the Ioniq, Hyundai intends to outdo the Prius in terms of fuel economy. In fact, the carmaker is trying to construct the vehicle so that it earns 56 mpg in EPA tests. Hyundai also has its eye on offering car buyers a longer driving range with the Ioniq than Nissan does with the Leaf. While Hyundai is unlikely to overtake Toyota's sales numbers for the Prius, the car company could land itself in the number two spot, which is a fine place to be when you sell automobiles.