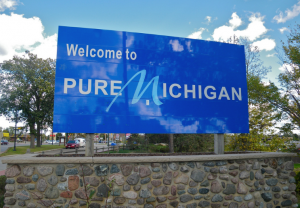 On June 1, 2016, Michigan Gov. Snyder unveiled a new branding campaign for his state. This campaign will be called Planet M and is aimed at promoting Michigan as the world's center for innovative transportation and mobility research of the future.
This unique campaign highlights Michigan's strengths as well as its rich history of being a forerunner in automotive advancements, its capacity to manufacture, and its environment that has all four seasons that gives automotive makers the opportunity to test their new vehicle technologies in almost any weather conditions. The tagline for the state's rebranding is: "Michigan. Where big ideas in mobility are born."
Gov. Snyder chose the Planet M campaign to showcase Michigan's future as a continued leader in mobility and innovations. The goal of this unique campaign is to keep and gain more investments into the state which has long been an automotive industry leader. Gov. Snyder wants the world to know that Michigan is ready and willing to change and be flexible as automotive technology takes on new endeavors and research. He also wants Michigan to influence the way in which the world moves.
The Planet M rebranding was announced at the annual Mackinac Policy Conference. It is hoped that this rebranding will bring a ray of sunlight into the state fraught with controversies like the Flint water tragedy and the financial problems of the Detroit Public Schools district.
Michigan Senator Gary Peters believes this campaign will prove to the America and to the world that it is not just manufacturing. That it is a high-tech state and will be a proven leader in new automotive technologies and in 21st-century transportation. Planet M's marketing campaign has come along at just the right time as the push and technology for autonomous cars is farther along than anyone had predicted.
President of General Motors, Dan Ammann, fully supports the campaign yet knows that the success of the Planet M campaign is highly depending upon many factors, including the support of the state's regulatory environment. For example, the recently introduced series of bills aimed at protecting automakers who are testing and operating autonomous vehicles on state-owned roads. Ammann believes the passing of these bills would help align the state of Michigan with the goals of Planet M. He admits that the support of the state through the passage of these vital bills would please him more than anything right now.
Michigan Department of Transportation director, Kirk Steudle, predicts that autonomous vehicles will be operating in controlled areas within the next two years and that they will be available for general use in approximately five years. This is a quicker timeline than many other industry leaders have predicted.
According to Steve Arwood, director of the state's Talent and Economic Development Department, Planet M will showcase the state's strengths to a national and international audience and allow it to be the hub of the next generation of transportation.